Venue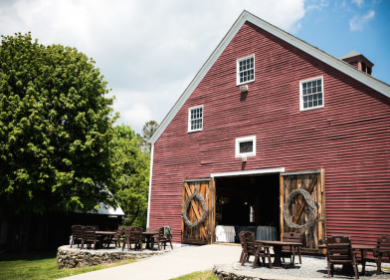 Saturday, August 3, 2019
5:00 PM
Ceremony
Reception
Smith Barn at Brooksby Farm
38 Felton Street, Peabody, MA, USA
The Felton House Woodland Gardens and Smith Barn are situated on a picturesque hilltop surrounded by two hundred and fifty acres of orchards and conservation land. Located at the Peabody Historical Society Felton-Smith Historic Site adjacent to Brooksby Farm, the Smith Barn and Woodland Gardens represent over three centuries of the region's history and is home to several historic landmarks.
38 Felton Street, Peabody, MA
The barn is wheelchair accessible, climate controlled, with an ATM onsite and ample parking is available.
Ceremony & Reception
Notes
The brief ceremony and exchange of vows will begin at 5:00pm in the Woodland Gardens. To spare you the dilemma of which side of the aisle you should sit, please just pick a seat, not a side, and say hello to your new neighbor.
In the event of uncooperative weather the ceremony will be held just a few steps away inside the Smith Barn. A change in location notification will be sent out via text message that afternoon.

We want you to be able to relax, have fun with us and be present in the moment during the ceremony. Please unplug for a few minutes and leave your camera and or muted phone in your purse or pocket. We have the photography covered and promise to share the ceremony pictures later.
Following the receiving line where everyone gets free hugs, the cash bar in the Barn opens and appetizers will be passed. We recommend you begin practicing your drink/cocktail napkin/tiny plate/toothpick balancing skills now. One thing about beverages; you may not bring in alcohol from outside the event onto the property.
Now to figure out where you are sitting and wonder how you ended up at that table (don't overanalyze it, sometimes it just comes down to simple math!). Besides, we are all friends and family so be prepared to break bread and enjoy a meal with new or familiar faces.
Introductions of the bridal party and embarrassing anecdotal toasts are soon to follow along with good food and drink. Haven't had enough yet? Fuel up with dessert and then it is time for the dance floor to open and the awkward dance moves to let loose. Limber up, strut your way to the floor and show us what ya got!
Hungry after burning off all those calories on the dance floor? Not to worry, more food is on the way! Some great snacks will appear just when you start to think you might need to refuel.
The merriment will unfortunately come to an end when the cows come home and kick us out of the barn. The farmer is very strict about their bedtime...11:00 pm sharp!
Menu
Food & Beverages
Appetizers
A variety of appetizers will be served. Once you find the app you like, lock your sights on that server. Stalking is acceptable when food is involved.
Harvest Salad Course
Mixed greens with dried cranberries, spiced walnuts, goat cheese, sliced pears and a cranberry vinaigrette.
Main Course
It will be served with some formality, but don't fret, no one will judge if you pick up the wrong fork because they are also trying to figure out the silverware situation.
Herb Panko Crusted Chicken Paillard with a caramelized onion and sweet sherry wine sauce served with wild and long grain lemon rice and buttered carrots with rosemary.

Cabernet Braised Boneless Short Ribs slow cooked with a rich cabernet sauvignon glaze served with signature smashed new potatoes and buttered carrots with rosemary.
Signature Butternut Squash Ravioli with a mascarpone cream sauce, fresh sage leaves and topped with miniature melange of roasted butternut squash.

Dessert
Grab a cupcake!
(Don't worry. You will dance it off!)
Looking for something on the lighter side?
The dessert buffet will also include chocolate glace dipped strawberries, dried apricots and pineapple on a handy dandy skewer.
"Midnight" Snack
Got the late night munchies? We won't let you leave with the hangries!
Grab your take out bag with pulled pork sliders, slaw, sweet potato fries and bottled water.
Beverages
Coffee and tea station available throughout the reception
Cash bar
Wedding Party
William and Jacqueline Faulhaber